BigBendFishing.Net
Photo of the Week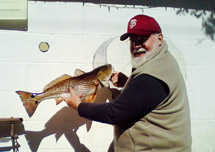 (click to enlarge)
JimBob with a perfect 27inch red!
Want to see your picture on the front page?
Send it here!



FISH WEIGHT CALCULATOR
Enter the length and girth of the fish in inches and press "Calculate".
The weight is given in pounds.
Please keep in mind that this is only an estimate.